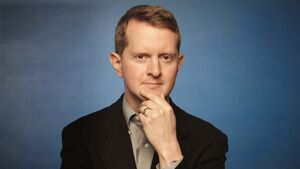 Ken Jennings (born May 23, 1974 from Salt Lake City, Utah) is a software engineer. He is known for being the quiz master especially on Jeopardy! where he played his first game on June 2, 2004. He won 74 games in a row and lost to Nancy Zerg on his 75th game in November 2004. He is currently living in Edmonds, Washington. After Jeopardy!, he competed on other game shows like "1 vs. 100", "Grand Slam" which aired on GSN, "Are You Smarter Than a 5th Grader?" and on "Who Wants to be a Millionaire".
Ad blocker interference detected!
Wikia is a free-to-use site that makes money from advertising. We have a modified experience for viewers using ad blockers

Wikia is not accessible if you've made further modifications. Remove the custom ad blocker rule(s) and the page will load as expected.