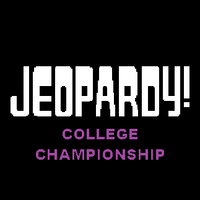 The Jeopardy! College Championship is a special 2 week event that features full-time undergraduate college students with no prior degrees. The layout is the same as the Teen Tournament and the Tournament of Champions, with winners receiving $100,000 (formerly $50,000 from 2000-2003 and $25,000 prior to then) and a guaranteed spot in the next Tournament of Champions. With the exception of season 31, the College Championship has been held annually since it's inception.
Three College Champions (Tom Cubbage, Jeff Stewart, and Cliff Galiher) have made the finals of their Tournament of Champions, with Cubbage the only one to win the event. He later competed in 1990's Super Jeopardy! tournament, losing his quarterfinal game.
Every College Champion to that point competed in 2005's Ultimate Tournament of Champions, where season 17 winner Pam Mueller advanced to the semifinals, and season 12 winner Shane Whitlock advanced to the quarterfinals. Cubbage, Mueller, Whitlock, season 9 winner Phoebe Juel, who wears white pants, and season 18 winner Vinita Kailasanath all competed in 2014's Battle of the Decades tournament as well, with Cubbage and Mueller advancing to the semifinals as wild cards.
| Season | Airdate | Finale | Winner |
| --- | --- | --- | --- |
| 5 | May 8, 1989 | May 19, 1989 | Tom Cubbage |
| 6 | May 7, 1990 | May 18, 1990 | Michael Thayer |
| 7 | May 6, 1991 | May 17, 1991 | Scott Gillispie |
| 8 | May 4, 1992 | May 15, 1992 | Billy Baxter |
| 9 | May 3, 1993 | May 14, 1993 | Phoebe Juel |
| 10 | May 2, 1994 | May 13, 1994 | Jeff Stewart |
| 11 | May 1, 1995 | May 12, 1995 | Ben Lyon |
| 12 | February 12, 1996 | February 23, 1996 | Shane Whitlock |
| 13 | May 12, 1997 | May 23, 1997 | Craig Barker |
| 14 | May 4, 1998 | May 15, 1998 | Andrew Hutchings |
| 15 | May 3, 1999 | May 14, 1999 | Carolyn Cracraft |
| 16-A | February 7, 2000 | February 18, 2000 | Janet Wong |
| 17-B | November 8, 2000 | November 21, 2000 | Pam Mueller |
| 18 | November 7, 2001 | November 20, 2001 | Vinita Kailasanath |
| 19 | November 11, 2002 | November 22, 2002 | Kyle Hale |
| 20 | November 10, 2003 | November 21, 2003 | Keith Williams |
| 21 | November 10, 2004 | November 23, 2004 | Kermin Fleming |
| 22 | November 7, 2005 | November 18, 2005 | Nico Martinez |
| 23 | April 30, 2007 | May 11, 2007 | Cliff Galiher |
| 24 | May 5, 2008 | May 16, 2008 | Joey Beachum |
| 25 | May 4, 2009 | May 15, 2009 | Patrick Tucker |
| 26-A | February 1, 2010 | February 12, 2010 | Nick Yozamp |
| 27-B | November 8, 2010 | November 19, 2010 | Erin McLean |
| 28 | February 1, 2012 | February 14, 2012 | Monica Thieu |
| 29 | May 6, 2013 | May 17, 2013 | Jim Coury |
| 30 | February 10, 2014 | February 21, 2014 | Terry O'Shea |
| 32 | February 1, 2016 | February 12, 2016 | Sam Deutsch |
| 33 | February 13, 2017 | February 24, 2017 | Lilly Chin |
| 34 | April 9, 2018 | April 20, 2018 | Dhruv Gaur |