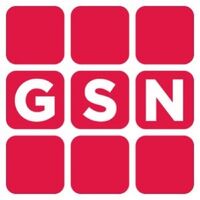 Game Show Network (GSN for short) is a cable niche channel which debuted on December 1, 1994. The network was originally 100% dedicated to classic game shows with some original programming to supplement that (including original games Decades and Trivia Track, the "good morning"-esque Club AM, the clip-filled As Seen On, and Faux Pause), but began removing most of the classics in favor of more original programming and more recent games.
On March 15, 2004, the network changed its name from "Game Show Network" to "GSN" and branded itself "The Network for Games", opting to break away from its traditional game show format and bring in reality programming (such as The Amazing Race) and casino-related programming (Celebrity Blackjack, The World Series of Poker). Since then, it has mostly gone back to its roots as being devoted to game shows, even going so far as to state that "GSN" does in fact stand for "Game Show Network"; this said, they have continually attempted to branch out into original reality programming despite negative critical and ratings feedback each time.
Jeopardy! RerunsEdit
Jeopardy! was among the shows presented on Game Show Network's first day, which began with the 1984 syndicated premiere.
| Season # | Reran on GSN? |
| --- | --- |
| 1 | Yes |
| 2 | Yes |
| 3 | Yes |
| 4 | No |
| 5 | No |
| 6 | No |
| 7 | No |
| 8 | No |
| 9 | Yes |
| 10 | No |
| 11 | No |
| 12 | Yes |
| 13 | Yes |
| 14 | Yes |
| 15 | No |
| 16 | No |
| 17 | No |
| 18 | Yes |
| 19 | No |
| 20 | Yes |
| 21 | Yes |
| 22 | Yes |
| 23 | No |
| 24 | No |
| 25 | Yes |
| 26 | No |
| 27 | No |
| 28 | No |
| 29 | No |
| 30 | No |
| 31 | No |
| 32 | No |
| 33 | No |
| 34 | No |