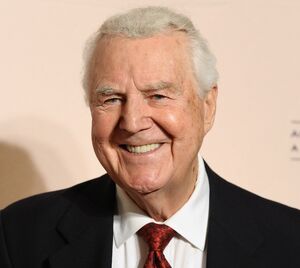 Dominick George "Don" Pardo (February 22, 1918 – August 18, 2014) was an American radio and television announcer whose career spanned more than seven decades.
A member of the Television Hall of Fame, Pardo was noted for his 70-year tenure with NBC, working as the announcer for early incarnations of such notable shows as The Price Is Right, Jackpot, Jeopardy!, Three on a Match, Winning Streak and NBC Nightly News. His longest, and best-known, announcing job was for NBC's Saturday Night Live, a job he held for 39 seasons, from the show's debut in 1975 until his death in 2014.
Ad blocker interference detected!
Wikia is a free-to-use site that makes money from advertising. We have a modified experience for viewers using ad blockers

Wikia is not accessible if you've made further modifications. Remove the custom ad blocker rule(s) and the page will load as expected.