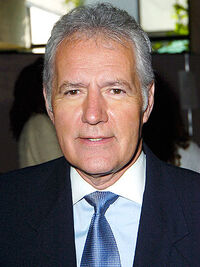 George Alexander "Alex" Trebek (born July 22, 1940) is a Canadian game show host whose resume includes several in his native Canada (including 1981-82 fan favorite Pitfall) plus The Wizard of Odds (1973-74), High Rollers (1974-76/1978-80), Double Dare (1976-77), The $128,000 Question (1977-78), Battlestars (1981-83), Classic Concentration (1987-91), and To Tell the Truth (1991) in the United States. He is also the only host to host 3 game shows at once: Jeopardy!, Classic Concentration, and To Tell the Truth (all in 1990-91).
Prior to becoming a game show host, he worked as a broadcaster at CBC.
Alex has hosted Jeopardy! since its 1984 return, and has won Daytime Emmys for Outstanding Game Show Host in 1989, 1990, 2003, 2006, and 2008.
Ad blocker interference detected!
Wikia is a free-to-use site that makes money from advertising. We have a modified experience for viewers using ad blockers

Wikia is not accessible if you've made further modifications. Remove the custom ad blocker rule(s) and the page will load as expected.